The New Normal: Behaviour Change after Lockdown
Posted: 14/05/2020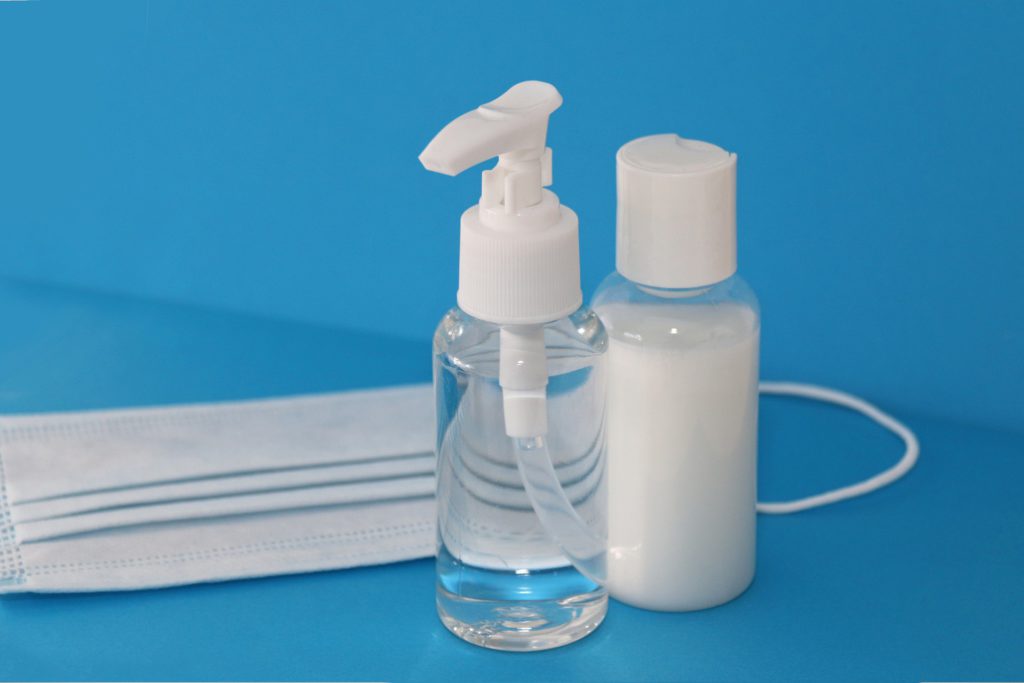 "The lockdown has led to an 80% increase in video-conferencing between colleagues, but only 37% are happy with the change"
---
Humans are creatures of habit: we get stuck in patterns of behaviour, even when better alternatives are available. An external shock like the coronavirus crisis might be exactly what is needed to break old habits. Disrupting routine forces people to try something new. But old habits die hard. Exploration isn't enough to make new behaviours stick; they need to be performed repeatedly. And new habits have a better chance if they are perceived as positive and sustaining them is feasible. So what have been the biggest shifts in behaviour, and which are most likely to stick in the new normal?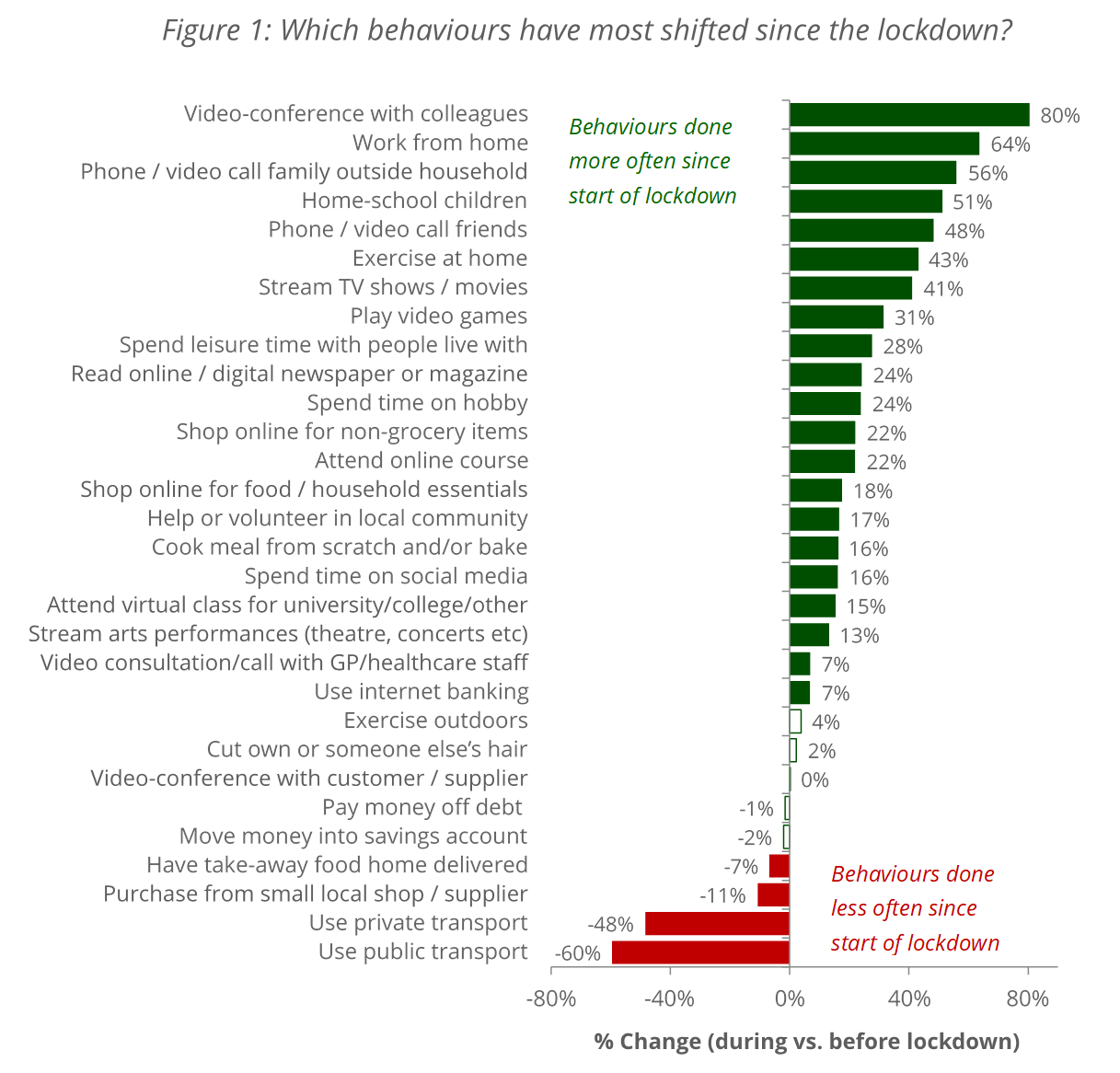 Comparing the frequency of behaviours prior and during the lockdown (see Figure 1), we find that the most widespread change is the move to remote working. Beyond work, people are spending a lot more time connecting virtually with family and friends. Education and exercise are now done from home and more are learning online. People's consumption of media has changed, with a 41% increase in TV streaming and 24% increase in reading news online. We also found a surge in leisure activities, such as time spent with household members, playing video games and enjoying hobbies. People are using online channels more to shop for both essentials (+18%) and non-essentials (+22%).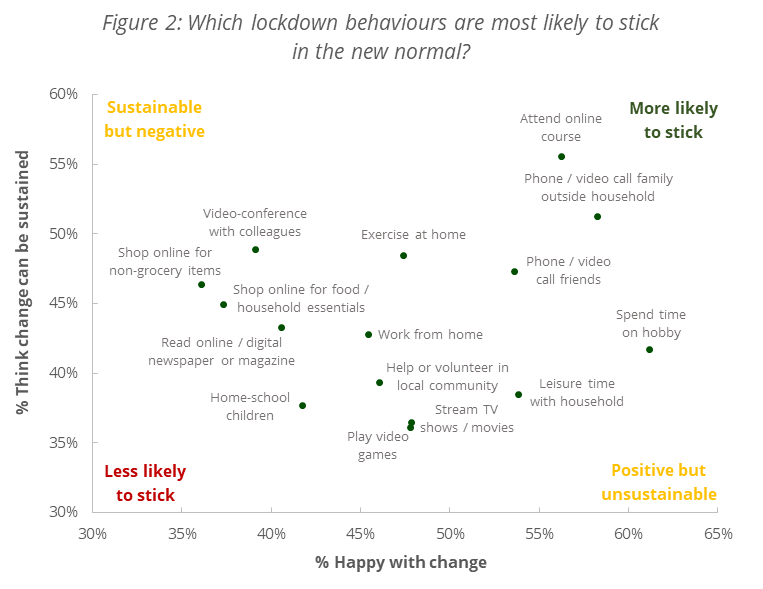 Once we have identified the most established changes, we forecast their stickiness by looking at how happy people are about the changes and how sustainable they deem them to be in the long-term (see Figure 2); we find that:
Taking online courses and virtual communication with friends and family are most likely to stick. We expect a continued shift towards online training, both for personal development and professional skills acquisition. This is good news for companies such as Udemy, Skillshare and Coursera. Similarly, we expect people to continue communicating virtually, especially video-conferencing with family members. Growth will continue for apps such as Zoom, Cisco Webex and Slack.
People enjoy the increase in time spent on leisure activities, but the change is unsustainable. While the increased time spent with household members, enjoying hobbies, streaming TV and playing video games is seen as positive, people don't believe they will be able to maintain it once lockdown is lifted. As a direct consequence of people having less available leisure time, we expect the surge in subscriptions for streaming services (e.g. 50M Disney+ subscribers since beginning of lockdown) to drop off again in the new normal.
Working from home will become more prevalent, but people will still want to spend part of their week meeting with colleagues. Remote working is seen as relatively sustainable but is not as popular as one might expect, driven by people's attitude towards virtual communication with colleagues, with only 37% reporting the experience as a positive one. Demand for office space might decrease following lockdown, but there is no evidence suggesting that companies will be closing their office buildings any time soon.
Home-schooling is highly unlikely to stick. Educating children at home is seen as unsustainable as well as undesirable, with only 42% rating the experience as a positive change. We expect this number would shrink further if it became permanent. When schools and offices reopen, even with an increased flexibility to work from home, home-schooling children will become more impractical. Particularly for those with older children, where limited parental expertise on a subject might be problematic.
We expect a significant number of people to return to the high street once restrictions are lifted, especially for non-grocery items. Online shopping is deemed as moderately sustainable, however people are not happy with the experience. The speed of return to physical shops will depend on the new measures put in place and how these will alter people's in-store experience.
The decrease in usage of transportation is unlikely to stick. Usage of both private and public transport has significantly gone down since the beginning of lockdown; however, the change is seen as both unsustainable and undesirable. We find no evidence that people will be using transport any less and expect a slow return to normal, shaped by the policies set by the government.
While these forecasts are at an average national level, different groups in the population will of course vary in both the prevalence and stickiness of the behaviour changes. Across all groups, time will be a key contributor: the longer lockdown measures remain in place, the more people will be forced to experience changes to the way they live their lives and the more likely new behaviours will persist in the long-term.
Back to blog