Proposition & Pricing
Whether developing a new product or optimising an existing range, we can robustly forecast consumer demand and willingness to pay. Our unique approach takes into account the psychological effects of context to deliver accurate, bespoke insights
Read below how we helped to develop a new online insurance purchase journey for a major high street bank
Real life decision makers surveyed
Behavioural Nudges tested
Staying ahead in selling online insurance
Situation
As one of the UK's leading retail banks, our client was making 70% of their product sales in their branches. But by 2014, 60% of consumers were using online channels and aggregator websites during their banking and insurance purchases. This placed substantial competitive pressure on the major high street bank to strengthen their online offering in line with the changes seen in customer behaviour.
Problem
The vast majority of the bank's insurance sales are direct to consumers. This presented an opportunity to convert enquiries into sales in a purchase environment that was fully controlled by them. But what does the optimal online sales journey for insurance look like and which behavioural principles can be used effectively to boost website traffic and conversions?
Approach
Since customer decision making is sensitive to the context, we recreated the high street bank's insurance sales journey as an interactive task using Behaviourlab. That allowed us to observe the behaviour of 3,000 insurance customers in an environment as close as possible to the real world. We randomly varied key elements of the sales journey between different groups of customers to test which nudges have the strongest impact on sales. Does it help to provide personalised recommendations? Do customers appreciate flexibility in building their ideal product? Should the price update automatically as customers add options? By combining actual behaviour in the simulated store with measures of perceived value and product comprehension, we were able to answer these questions and gather insight into why certain features led to increased sales whilst others did not.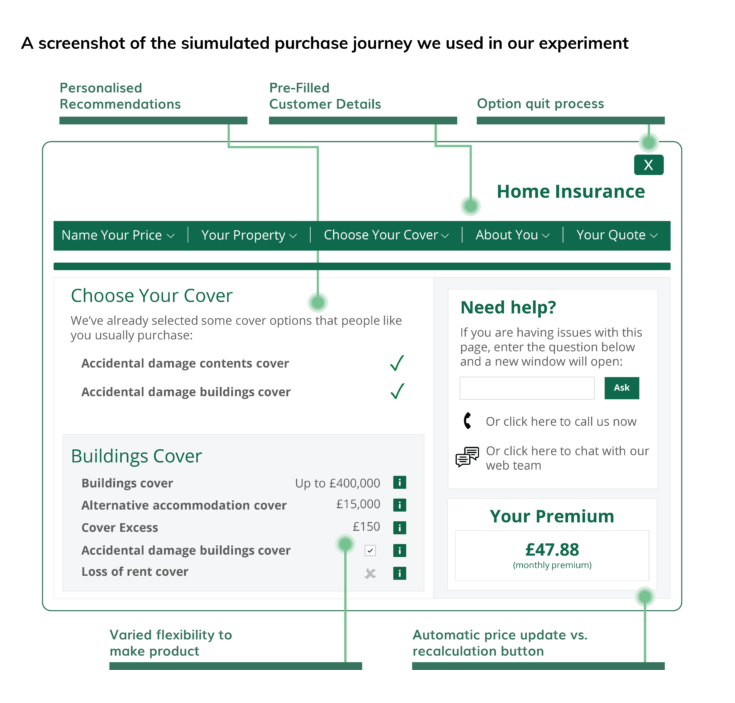 Impact
Our results showed that key aspects of the customer journey, such as giving customers high flexibility to customise their quote, could boost conversion by up to 30%. We supported the bank's UX team in implementing the top-performing nudges, resulting in a optimised digital sales journey that is still used to this day.