Data & Analytics
Commercial data is one of the most valuable assets of any organisation and is the raw material that allows you to make reliable, evidence-based decisions. Our expertise in cutting-edge statistical analysis and machine learning helps turn this data into meaningful insights. We then transform these insights into actionable recommendations that can drive key commercial results.
Read below how we analysed Costa's sales data to develop a regional pricing strategy
£3.5 Million
Increase in annual profits
A new pricing strategy from Costa's own freshly ground data
Situation
Throughout the 2010s, the UK coffee market experienced significant growth of around 6% per year, with Costa, Starbucks, and Caffe Nero rapidly increasing their footprints. However, opportunities for estate expansion were drying up and smaller boutique coffee chains were emerging. Costa decided that it was time to adjust their focus away from new outlets and instead rely on footfall and basket size to deliver ROI and sustainable growth.
Problem
Costa recognised that their previous pricing decisions had been too focused on cost implications and competitor action. A more customer-focused approach was needed to balance footfall and margins, and drive growth. However, despite possessing a wealth of sales data spanning several years, Costa had limited experience in researching, planning and executing pricing decisions. Consequently, Dectech were commissioned to develop Costa's pricing strategy, including an in-depth analysis of historic sales data.
Approach
To understand customer responses to price rises, we securely sourced 400GB of point-of-sales data comprising 1,000 million records. A custom model was developed to produce product-level elasticity estimates that accounted for factors such as seasonal trends in sales, regional price sensitivity, price rises, and product trends over time.
Using this model, we developed a regional food and drink pricing strategy that maximised financial impact by leveraging the detailed insights drawn from the data, whilst being mindful of Costa's operational constraints and the need for simplicity.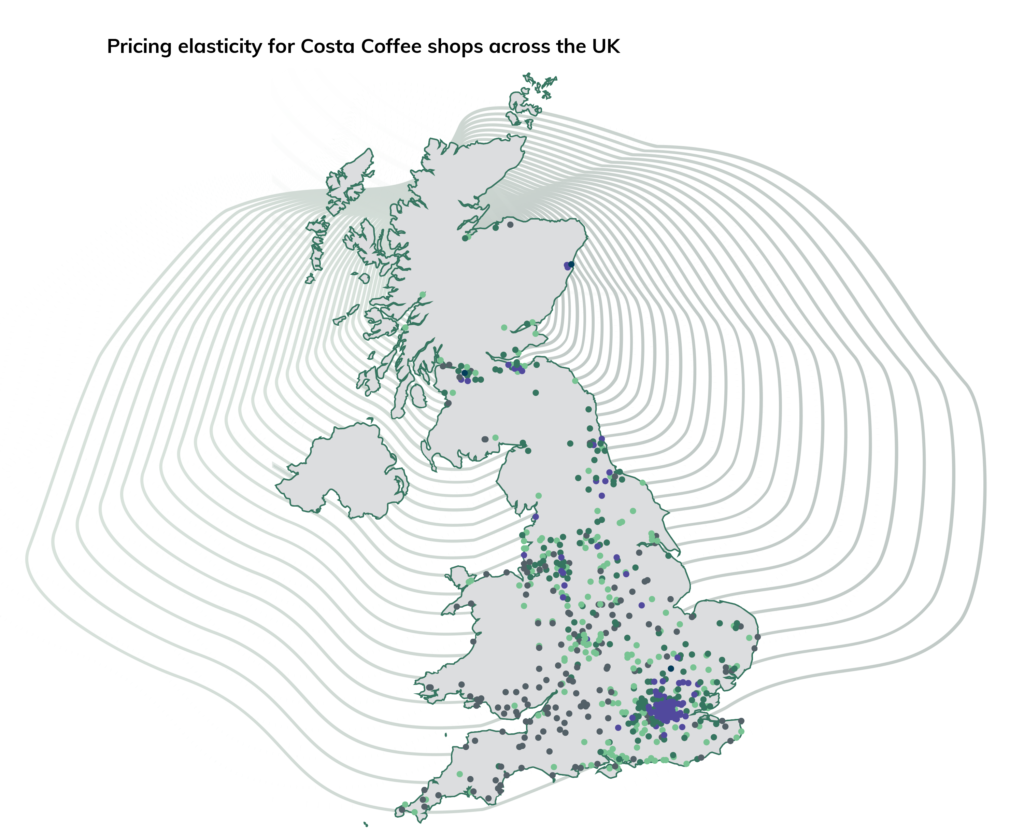 Impact
The new pricing strategy is worth at least £3.5M in additional profits every year. Costa integrated the strategy into their operations and created a new pricing team within the organisation to ensure it was executed properly.