Trade & Commercial
Revenue growth requires retaining current customers, acquiring new customers and increasing the value drawn from the base. Our behavioural approach allows us to model customer flows in the real-world market context in which they happen, helping companies to design an optimal strategy to both defend and grow market share.
Read below how we helped Deliveroo to make their premium subscription more appealing and valuable
Increase in subscriptions
Additional revenue generated
Delivering value in the food delivery market
Situation
The online food delivery market grew rapidly, with annual growth rates over 20% between 2015 and 2018. Alongside Deliveroo companies like JustEat and Uber Eats are fulfilling the growing demand for meals delivered to the home. As a way to engage their base and encourage them to use the platform more, Deliveroo planned to overhaul their premium subscription service Deliveroo Plus.
Problem
In 2018 Deliveroo needed to understand which features their users were looking for in a premium delivery subscription and how to price the subscription to balance uptake and profits. As the Deliveroo Plus service would be extended globally, Deliveroo needed to know if users in different countries have different needs and preferences to address in order to both satisfy customers and create value for their business.
Approach
Using Behaviourlab, we were able to recreate an online environment that includes all crucial touchpoints in the Deliveroo customer journey. The 2,000 participants went through the realistic process of ordering a meal on Deliveroo before being asked to consider a Deliveroo Plus subscription. This recreates the context in which customers would encounter the final product once it is launched, a crucial feature of our behavioural research. In our simulated environment, groups of participants saw different versions of the subscription, with features and pricing varying between groups. The features included offer, flexibility, menu and delivery innovations, based on ideas generated by Deliveroo. Besides measuring the actual take-up of the subscription in our simulated store, we also looked at customer opinions such as perceived service level, feature clarity and customer advocacy.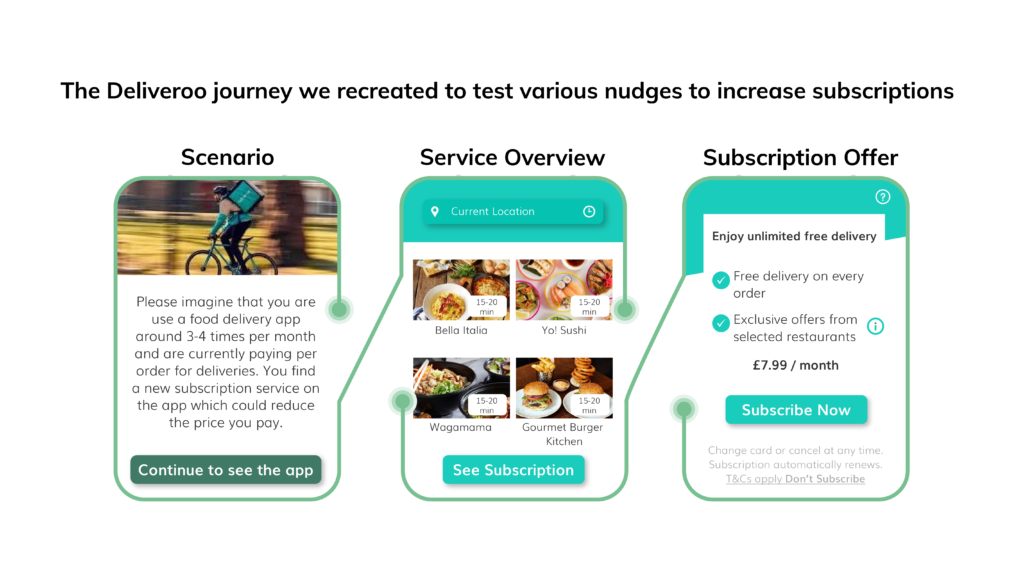 Impact
Using our predictive models, we helped Deliveroo to identify the most valuable offer features, such as the removal of a minimum spend for subscribers. Using the optimal combination of features and pricing, Deliveroo Plus has now launched in over 500 cities in 13 countries worldwide. Our recommendations helped increase the subscription rate by 16% and generate an additional £8 million in annual revenues.