Brand & Marketing
Our Brand & Marketing products provide a holistic view of brand performance. We advise on campaign optimisation, analyse creative quality and consult on higher level brand impact. We identify the audience opinions and touchpoints that drive behaviour, allowing us to forecast the impact of changes in brand strategy and prioritise key areas of focus.
Read below how we helped to optimise giffgaff's advertising and brand strategy
4.2%
Rise in Brand Consideration
7.2%
Rise in Campaign Awareness
A champion campaign for a challenger brand
Situation
As a challenger brand, giffgaff have always had a loyal base of early adopters, drawn to their products' flexibility and value. By 2015 giffgaff wanted to broaden their audience and encourage more consumers to consider using the network. A crucial part of this strategy was their advertising plan. Having run giffgaff's Brand Tracker since 2012, we were asked to analyse the impact of their 'Hey you' advertising campaign.
Problem
When giffgaff launched the campaign in May 2015 they aimed to reach as many viewers as possible using a cost-efficient mix of media channels, and inspire customers to consider them through clear, engaging ads. To ensure these goals were accomplished, giffgaff wanted to understand how their ads were performing during the campaign and flexibly adapt their strategy. They were also interested in the longer lasting effects their marketing efforts have on opinions and consideration of the brand, so these learnings could inform future campaigns.
Approach
Brand Tracker data alone is not granular enough to analyse the performance of specific media. We used two other tools to help giffgaff optimise their 'Hey you' campaign:
Our AdTest products measure the effectiveness of a creative – evaluating whether it holds viewers' attention, elicits emotions and conveys a strong, clear message. AdTest results showed an opportunity to improve viewers' emotional engagement with the 'Hey you' TV creative.
Our Campaign Tracking measures week-by-week recall of specific creatives with quick turnaround. This permitted tactical responses mid-campaign, for example shifting budget to the effective, cost-efficient media channels.
Results of both the AdTest and Campaign Tracking could then inform our interpretation of Brand Tracker results, allowing us to analyse the impact media activity has had on consideration of the brand.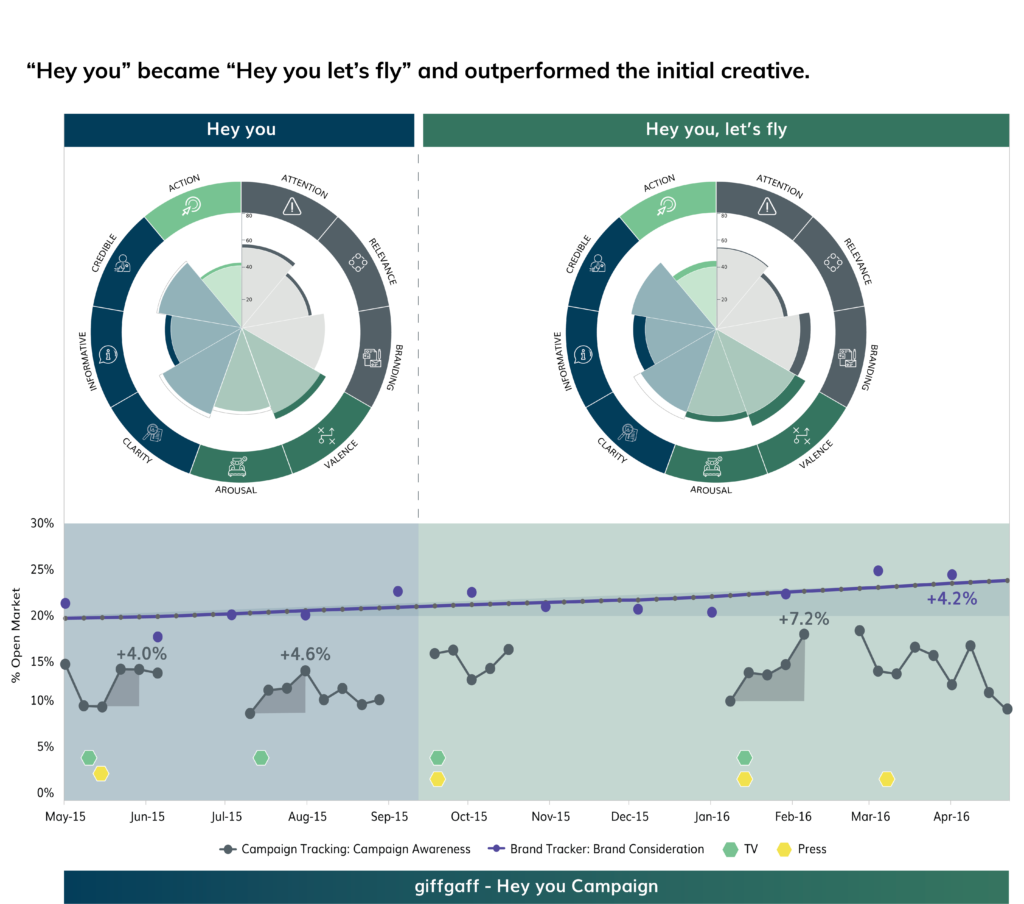 Impact
giffgaff used our AdTest insight in their updated 'Hey you, let's fly' TV creative, leading to stronger emotional engagement and clearer branding. Campaign Tracking results allowed giffgaff to place budget across an optimal marketing channel mix and push the right creatives, in the right place, at the right time. This led to strong growth in viewers' awareness of the campaign, especially in later bursts of activity. By being able to adapt their media strategy tactically based our real-time insights, giffgaff achieved a significant 4.2% rise in brand consideration over the campaign period, showing broader familiarity and engagement with the brand.